AtlasIED helps AV integrators maintain a steady, profitable workflow with fully stocked and shipping products including mass communications, digital audio, and speakers debuting at InfoComm 2021.  
PHOENIX, AZ – (October 19, 2021) – Amidst a global supply chain shortage, AtlasIED is proud to announce that new products introduced at InfoComm 2021 (booth #2311) are fully stocked and shipping from the company's worldwide distribution centers. This should come as a positive sign for AV integrators, designers, consultants and other professionals who need enterprise-grade audio and communications products now for projects underway or in the pipeline. Recently added to AtlasIED's inventory are audio and communications solutions packed with features to streamline installation and configuration, integrate easily into commercial environments, and ensure effective, efficient delivery of routine and emergency notifications. AV integrators can order most of the following InfoComm introductions today for timely delivery: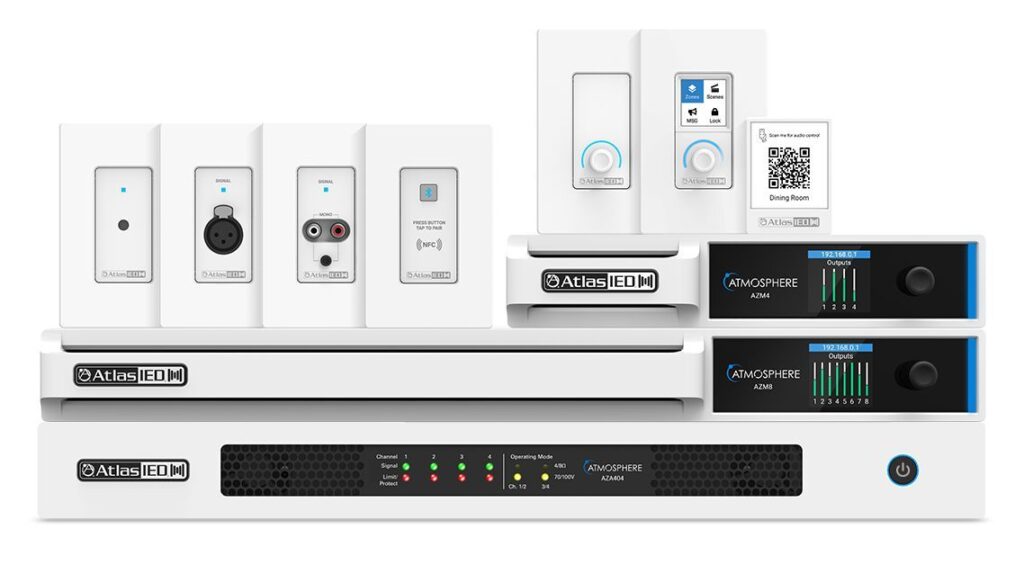 Atmosphere™ Platform Sets a New Digital Audio Standard
During InfoComm 2021 AtlasIED will debut for the first time at a global AV industry trade show its award-winning Atmosphere™ digital audio platform. Launched successfully last year, Atmosphere™ comprises a complete ecosystem of interoperable products rich with advanced features. The platform has been designed and engineered to be dramatically easier to configure, install, and operate than traditional digital audio systems, but with the modularity, scalability, versatility, and quality performance to support the audio needs of a wide range of commercial applications, particularly well-suited for restaurants, bars, hotels, school campuses, houses of worship, and retail establishments.
Setting Atmosphere™ apart from other digital audio solutions are integrated technologies including touchless control, automation, and artificial intelligence. Together, these features, along with new updates, like bell-scheduling and stereo support, provide commercial establishments with a simpler, more convenient way to manage audio, resulting in greater customer and employee satisfaction and engagement. Plus, new black wallplates
join the platform's original white wallplates and accessories as an option that blends better with the color schemes and construction materials of many hotels, bars, restaurants and other environments. 
As part of its Atmosphere™ exhibit, AtlasIED will showcase several key components of the system, including an 8-zone and 4-zone audio processor (AZM8 and AZM4), wall-mounted controllers for volume, source and zone selection; remote input devices for RCA, XLR, and Bluetooth connectivity; a technologically advanced ambient noise sensor, and 400- and 800-watt 4-channel power amplifiers (AZA404 and AZA804).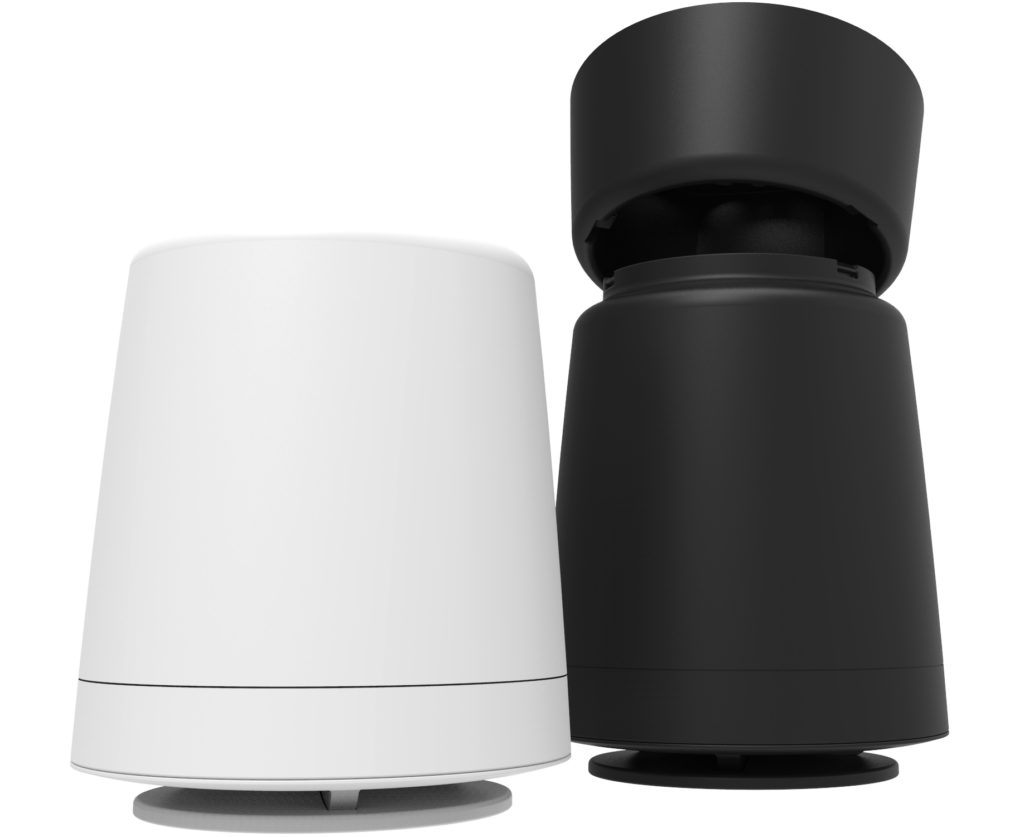 SHS-3T2 and SHS-LF Speakers Support Sound Masking and Background Music
AtlasIED expands its Strategically Hidden Speaker (SHS) line at InfoComm 2021 with the addition of two new high-quality, design-friendly speakers, the SHS-3T2 and the SHS-LF. Exhibiting the same discreet, low-profile cosmetics as AtlasIED's existing line of SHS products, the two newcomers are engineered and designed for sound masking and high-quality background music applications. 
The SHS-3T2 integrates seamlessly with AtlasIED's Z Series Z2-B and Z4-B High-Definition Acoustical System, providing AV integrators with a simple-to-install speaker that goes virtually unnoticed in healthcare, clinical, and corporate facilities where sound masking is important for speech privacy and workplace productivity and comfort. The SHS-LF is a design-friendly subwoofer that pairs perfectly with AtlasIED's SHS-6T2 and SHS-3T2 to round out the low-frequencies for high-quality music reproduction. 
Only a 3-inch diameter lens and a micro trim ring are visible when the SHS-3T2 and SHS-LF are installed flush with the ceiling. The lens can be rendered imperceptible via AtlasIED's DesignLab™ color match process, a high-resolution UV-printing technology that replicates color and texture onto the SHS lens for visual continuity. 
GCK Application, IP-DMF, and 571 Mic Station Leverage Mass Communication
Giving commercial AV integrators even greater choice and flexibility when designing and deploying life safety and general notification systems, are an updated version of the GLOBALCOM® GCK software application, a digital communications station in both Dante and CobraNet versions, and a new IP endpoint that combines an integrated LCD, flasher, and talkback microphone. 
The GCK Application can be utilized on any Windows 10 device or server. In addition to this installation flexibility, it offers AV integrators the same great features as the original GCK software, but with a brighter, more modern user interface to streamline programming and navigation. Per the request of AV integrators, also new is the ability to program the software off-line, further streamlining deployment of GLOBALCOM® mass communications systems.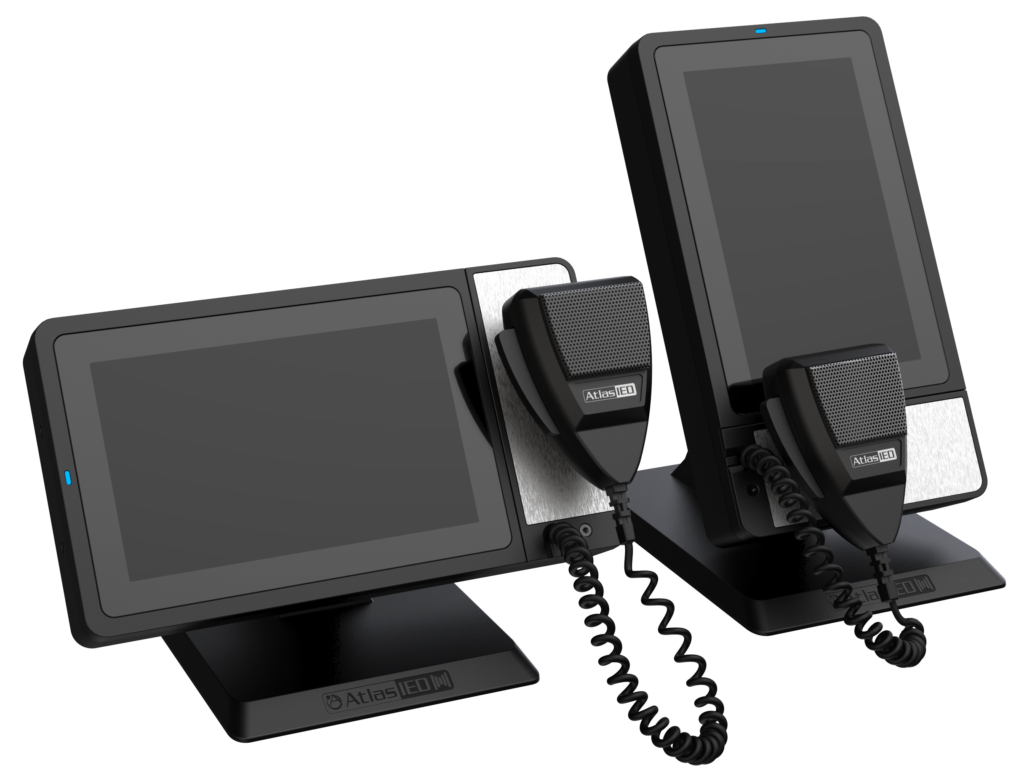 Replacing AtlasIED's 528, 550, and 570 Series Digital Communication Stations, the 571 Digital Communication Station with integrated microphone supports both CobraNet and Dante standards, features a highly intuitive and easy-to-clean adaptive touchscreen as its user interface, and can be flush-, surface-, or desktop-mounted either vertically or horizontally. 
Further enhancing mass communications solutions in AtlasIED's comprehensive lineup, and a commonly requested addition to the IPX family of IP endpoints is the IP-DMF, an indoor wall-mounted IP Endpoint supporting scrolling text alerts and visual signaling through a flasher to improve daily and emergency communications and a microphone to support intercom functionality. The IP-DMF is particularly useful in noisy environments like factories, transportation hubs, school and corporate cafeterias, auditoriums, and more, where visual communication is usually more effective. 
"These new audio and communications solutions not only represent our commitment to providing AV integrators with products that satisfy the technological and high-use demands of commercial projects but also their need to have the products when and where they need them for on-time deployment. We've alleviated some of the headaches associated with worldwide shipping hurdles and product shortages by maintaining a full inventory of our new and existing product lines," says Michael Peveler, VP Sales at AtlasIED. "Most of these recent new additions to the AtlasIED portfolio are in stock and ready to ship, giving integrators one more reason to partner with us." 
Where to See AtlasIED
InfoComm 2021 attendees are invited to Booth #2311 to see AtlasIED's recent product introductions and to pick up an invitation to an off-site customer appreciation event at Top Golf, Wednesday, October 27, from 7-10 p.m. For those unable to attend InfoComm, AtlasIED will offer the opportunity to schedule private demos on-site or virtually. In the meantime, anyone interested in learning more about AtlasIED and its extensive product line can visit www.atlasied.com.
About AtlasIED
AtlasIED has been a recognized leader in the pro-audio industry for over 85 years, developing innovative audio solutions for a wide variety of commercial environments. The company's diverse, comprehensive, and ever-evolving solutions cater to the high-quality audio and communication technology needs of markets globally, including transportation, healthcare, corporate, industrial, government, hospitality, education, and house of worship. Technologically advanced, expertly engineered, and highly marketable, AtlasIED's products and systems deliver mass communication, high intelligibility announcements, IP-based visual and audio communications, distributed audio, background music, paging, and sound masking solutions to commercial projects of every size and scope, including those which are mission-critical. Family-owned, the company's nine locations and a well-established network of experienced manufacturer representatives and distributors throughout the world ensure exceptional customer support and service to drive continued growth and advancement of the commercial audio industry. 
For more information please visit www.atlasied.com, and follow the company on Facebook, Twitter, Instagram, and LinkedIn.
AtlasIED Media Contacts
Gina M. Sansivero, AtlasIED, (516) 901-8542, [email protected]
Katye (McGregor) Bennett, KMB Communications, (425) 328-8640, [email protected]
All products, product names, trademarks, and registrations mentioned are the property of their respective owners, all rights reserved.