Las Vegas, Nevada, April 15, 2022— Digigram, a manufacturer of leading IP audio solutions, will be showcasing the complete IQOYA Suite of products that is the most configurable codecs on the market that adapts to all uses including live remote broadcasting as well as distribution for both radio and TV in mind. The "flagship" in the company's family of IQOYA codecs, IQOYA SERV/LINK will be on display in Las Vegas during NAB 2022 at the Digigram booth N2238, while RME, Ferrofish and Appsys will be represented at booth C6708, in the Las Vegas Convention Center from April 24th through the 27th.
Digigram's IQOYA Suite includes hardware and Cloud-Based solutions. Hardware solutions include IQOYA TALK, IQOYA X/LINK, IQOYA X/LINK MPX, and IQOYA SERV/LINK. The Cloud-Based solutions on display include IQOYA CONNECT, IQOYA REMOTE/MANAGE, and IQOYA GUEST. Whether the demand is remote broadcasting, REMI productions, or multi-cast distribution, the IQOYA ecosystem offers versatility and can accommodate an array of unique broadcasting applications in both TV and Radio.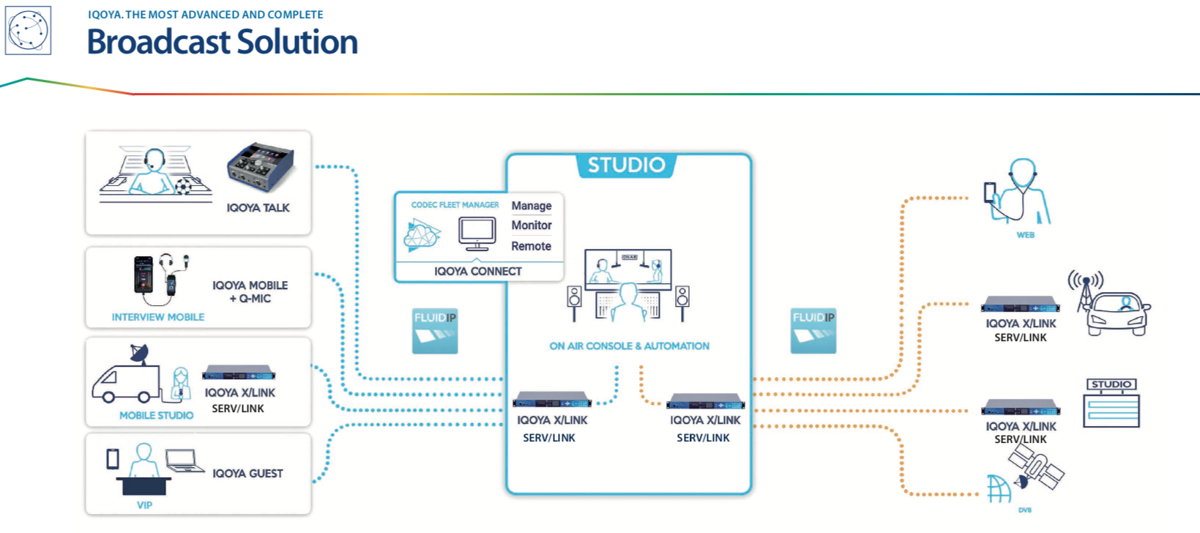 "IQOYA CONNECT in tandem with the fleet of IQOYA hardware codecs makes Digigram one of the most robust and powerful solutions for managing your entire broadcast audio network. A centralized Cloud infrastructure puts the control back in the station's hands and makes the broadcaster's life a whole lot easier," states Derek Badala, Director of Sales, Americas for Synthax, Digigram's US distributor.
Live broadcasts can utilize IQOYA GUEST for high quality audio while remote talent receive live video feeds of the event. While the IQOYA SERV/LINK, the multi-channel audio codec, located in the production studio, gathers the audio feeds enabling technicians to operate the mixing and distribution.  IQOYA CONNECT ensures that the studio technician has an eye on every codec and can remotely monitor them if needed. Digigram's low-latency IQOYA codecs and IQOYA CONNECT, offers a connection service that allows a broadcaster to distribute live programs including local/regional content to multiple markets at the same time during one single live event capture.
IQOYA TALK is a user-friendly portable codec with sturdy hardware in a compact frame run on 2 hot swappable batteries perfect for the field. IQOYA TALK has several connection options for smooth live broadcasting plus Dual Redundant Streaming. Remote Guests can also provide remote contribution through the IQOYA GUEST + Q-MIC, which connects with high quality audio no matter how loud the environment is. Unique to the IQOYA TALK is the ability for it to be REMOTE CONTROLLED from the studio and it can also save your favorite settings in the CLOUD so there is no pre-configuration necessary by the technicians.
For more information on Synthax, visit: https://www.synthax.com/
For more information on Digigram, visit: http://www.digigram.com/
For more information on RME, visit: https://www.rme-audio.de/home.html
For more information on Ferrofish, visit: https://www.ferrofish.com/
For more information on Appsys, visit: https://appsys.ch/en/
About Synthax, Incorporated
Synthax Inc. is the exclusive USA distributor for RME digital audio solutions, Digigram broadcast audio systems, Appsys digital audio tools, Ferrofish advanced audio applications, myMix personal monitoring systems and ALVA cableware. We supply a nationwide network of dealers with these products for professional audio, broadcast, music industry, commercial audio, theater, military and government applications. For additional information, visit the company online at http://www.synthax.com.