Los Angeles, California, June 8, 2023 — Hard on the heels of adding another Grammy Award to their growing collection earlier this year, Sam Smith recently embarked on a 75-date tour across four continents in support of their latest chart-topping album, Gloria. Joining Smith on the seven-month-long Gloria The Tour is veteran front-of-house engineer Jim Ebdon behind a Solid State Logic Live L650 mixing console with THE BUS+ compressor and Fusion analogue multi-processor in his outboard rack.
Ebdon, who started his career over 30 years ago as a studio engineer in the U.K. and whose extensive résumé includes tours with, among many others, Maroon 5, Matchbox Twenty, Aerosmith, The Weeknd and, most recently, Justin Bieber, is no stranger to working on SSL Live consoles. He took an L200 out on Smith's The Thrill of It All Tour in 2018, he's been using L550 Plus and L650 consoles with Bieber for the past few years, and it's not unusual to find him behind a Live desk at his home studio in Los Angeles, mixing one project or another.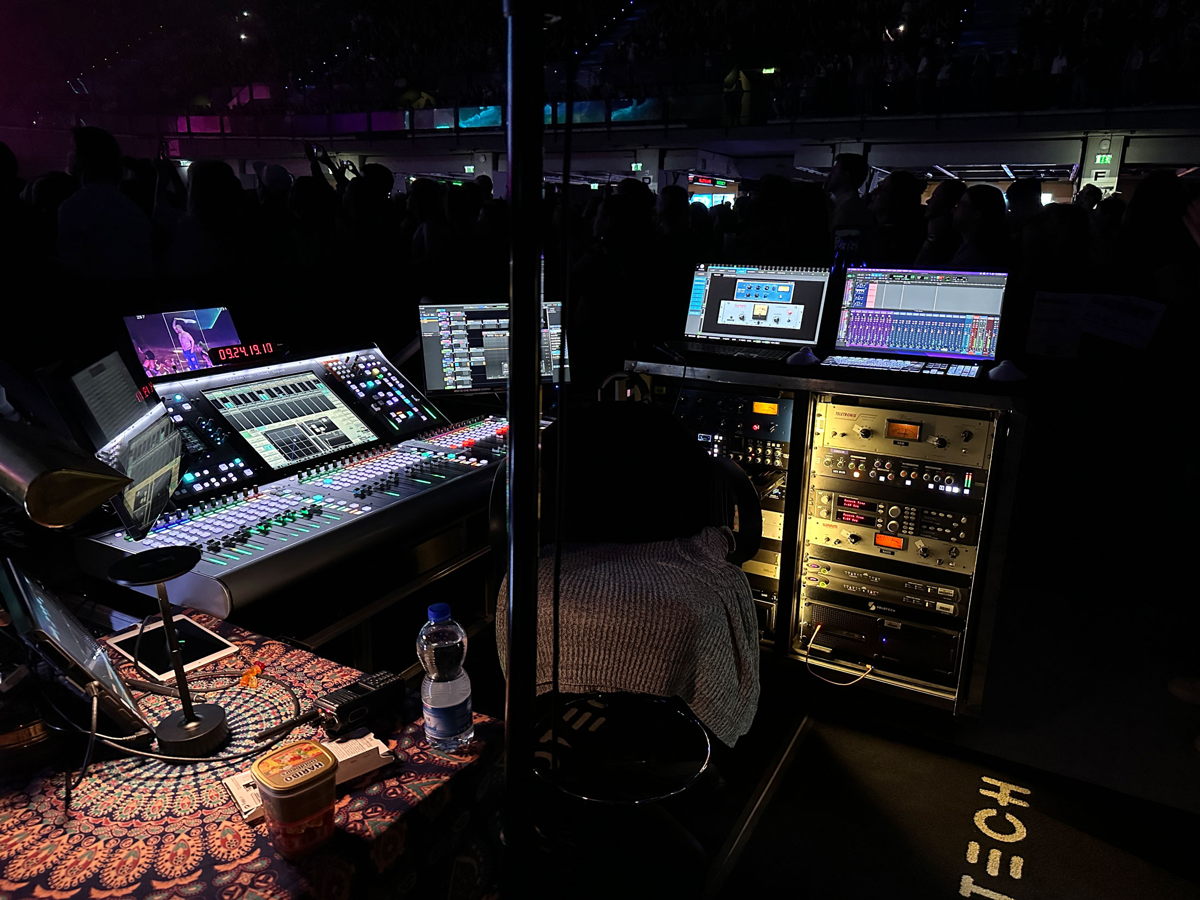 A phenomenal combination
​For Gloria The Tour, Ebdon elected to take out an SSL Live L650 console along with three 32-input Net I/O SB 32.24 Stage Boxes. "The console sounds so good," he says. "I also use THE BUS+ and a Fusion on my mix bus, and that's a really great combination. You think you've dialled up a great mix and then you go into THE BUS+ and the Fusion and start playing around — and suddenly you have an even better mix. The combination is phenomenal."
Describing the L650, he says, "It's got a much bigger, deeper sound, and I've always preferred the mix bus sound of SSL Live compared with other consoles." While the mix bus delivers SSL's characteristic 'Larger than life' sound, Ebdon is also happy with the preamplifiers: "I am only using SSL Live mic pres, I don't use any external 3rd party mic pres for anything," he says. "The inputs and outputs of the console are one of the reasons I chose it!" These days, Ebdon observes, live productions are technically similar, which means that he can tackle any show as long as he has his SSL Live console and rack of outboard, "Artists have their own character, and it translates very well with the equipment I use, so I don't feel any need to change equipment between artists."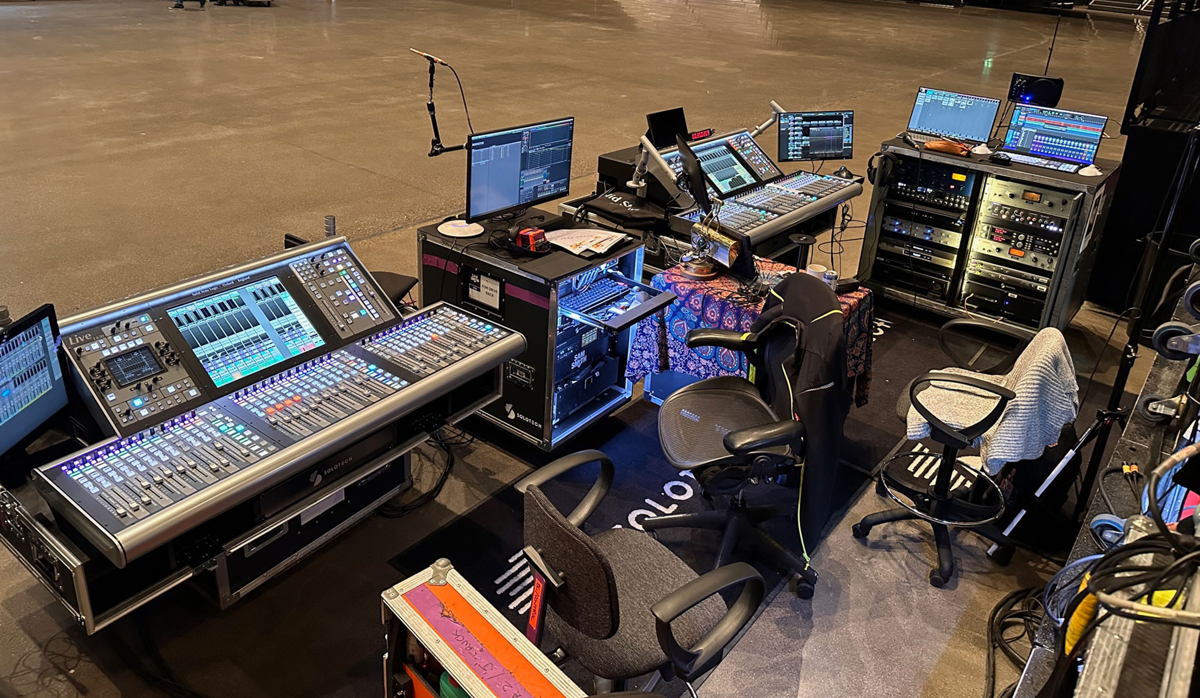 L650 shining on vocals
​With any artist, but especially with Smith, Ebdon endeavours to let the vocal shine through without a lot of processing. "Sam Smith is known for singing and their voice is just phenomenal. Audiences are coming to hear their voice, so I'm also very aware of levels and how loud things are. You can hear a pin drop in some parts of this show, but people also want to be thrilled by the excitement of some low end and some dance-type music. And the SSL Live console is so great for facilitating dynamics."
As for vocal processing, Ebdon is as hands-off as possible. "You can over process the human voice. I want the human voice to sound just like you are six feet away. Even though it's amplified, it's still going to sound the same." But using the Violet EQ section of the Fusion processor, he says, "I can get some of that 12k, 18k back in there, some of that air that you can hear from a record. And it doesn't screw up the actual tonal quality of the voice."
Focus on the SSL Fusion
​Ebdon has been using the Fusion for quite some time. "I love the Vintage Drive feature on it; I dial in the harmonics every day. And the Violet EQ is phenomenal. I tend to add some of that high-end air on a daily basis, once the audience has come in, or if I want to have that little bit of air in the mix." But the current Sam Smith tour is his first opportunity to use THE BUS+ compressor, which he has wired into the insert points of his Fusion. "I haven't even gotten a quarter of the way into what THE BUS+ can do; you can really get deep into it," he reports.
Rehearsals for Gloria The Tour took place in the English countryside. "I was in a small trailer out back from this beautiful barn in the middle of nowhere in England. It was very much a studio environment, which is great for listening to things, dialling in sounds and getting my console programmed."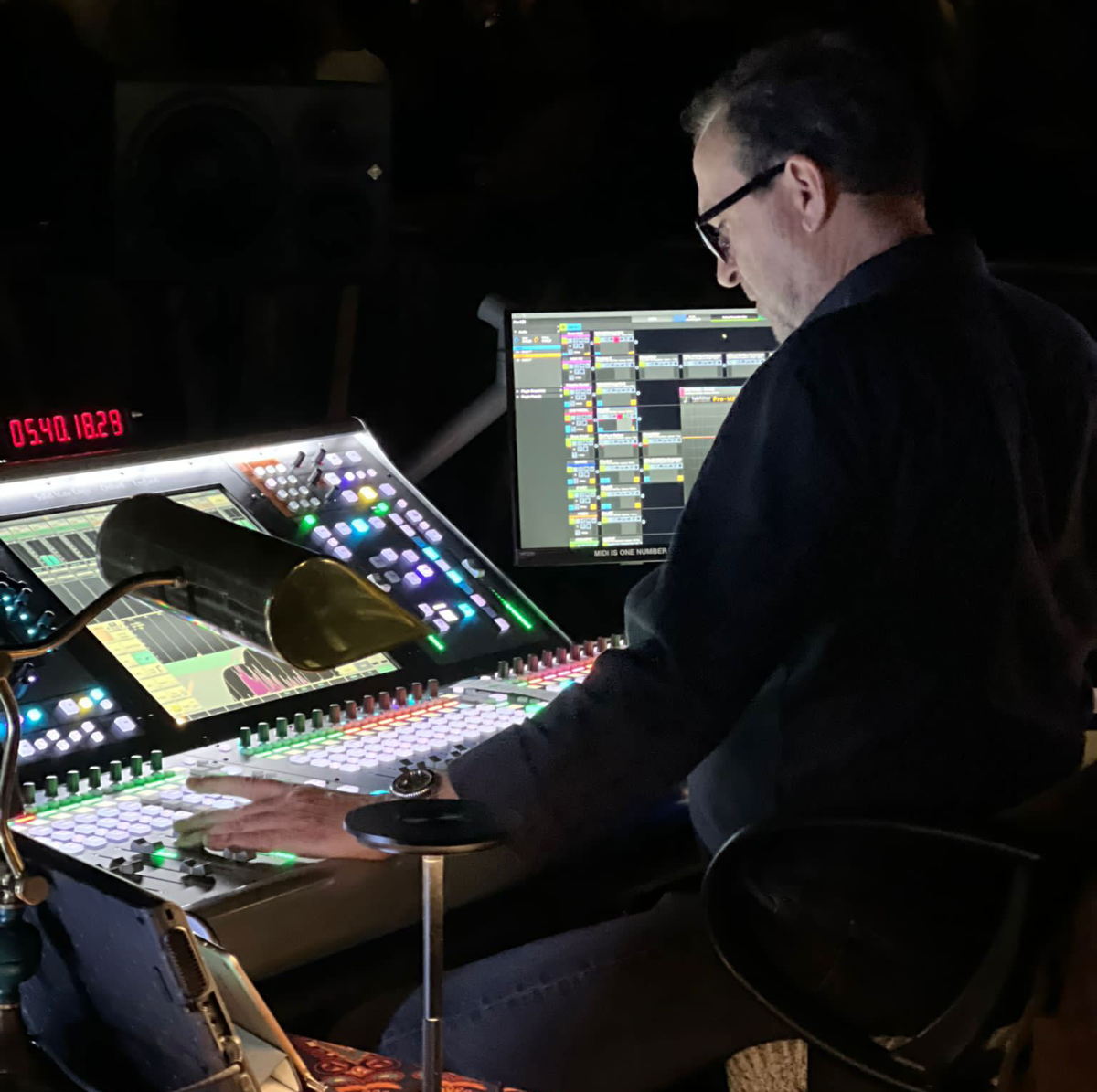 Powerful DSP, familiar layout
​Aside from the console's signature SSL sound, Ebdon appreciates its processing power and the three fader tile wide layout of the L650: "The layout reminds me of the L200, which I always liked," he observes. "Having the faders on the right side is perfect for my style of working because I tend to have the vocals on my right hand, drums on the left side and instrument VCAs and my subgroups in the middle," he explains. The L650's dynamics and sound shaping tools are readily apparent in all of Ebdon's mixes for Smith's performances. "I love the EQ and channel compression on the console," he says. I have the Dynamic EQ on Sam's vocal every night — this works really well and sounds lovely. Also, the tap delay is just phenomenal."
But setting up a console and a concert mix in a trailer, even with a decent acoustic environment and great monitors, is not the same as standing in front of a P.A. rig, Ebdon continues. On this tour, he says, audio provider Solotech is supplying a d&b audiotechnik GSL main rig with flown subs and KSL side and rear hangs, together with J-Sub and J-Infra subs under the deck. "My first job once I got into the arena with a big sound system was making sure my bass, middle and treble relationship was all good. My mix obviously changed a little bit to accommodate, so I'm really building new mixes on the L650 over a two- or three-day period before we do our first show. And the SSL is so versatile, with its snapshots and updating. The programming is really easy and intuitive. And it sounds so good, as well."
To find out more about the SSL live production platform and latest V5.2 software, or to arrange a demonstration, please contact your local SSL Live representative or visit the Solid State Logic booth (5881) at InfoComm 2023, at the Orlando Contention Centre, 14 – 16 June: https://bit.ly/SSLIC23 ​ ​
About Solid State Logic
​Solid State Logic is the world's leading manufacturer of analogue and digital audio consoles and provider of creative tools for music, broadcast, live and post production professionals. For more information about our award-winning products, please visit: www.solidstatelogic.com.