Denver, Colorado (June 6, 2023) —Mersive Technologies, a leading provider of enterprise-ready collaboration tools, will introduce the latest version of its Solstice collaboration platform, Solstice 6, at InfoComm 2023 in Orlando next week.
Solstice enables users to easily share content from any device to any Solstice-enabled display in a meeting room, huddle space, classroom, or other collaboration environment. Solstice 6 makes deployment more intuitive than ever, meeting IT and AV professionals' need for a simple out-of-box guided setup experience that gets them up and running fast without compromising configuration options. It also reduces the time required for end users to begin collaborating to mere seconds via web connectivity.
Solstice 6 Makes Deployment Easy
Solstice 6 makes installation, configuration, and overall deployment of Solstice Pods and supporting software easier for channel partners and integrators with a new onboarding software routine. When the integrator or IT professional first unboxes and plugs in the Solstice Pod, a new guided setup screen and installer tool opens to walk them through network, internet, and Solstice Cloud setup, as well as ensure that each Pod is properly deployed. The installer also automatically whitelists Solstice with Windows Defender so users can get the most out of the Solstice software. All of these improvements dramatically reduce the time between installation and collaboration.
Fast, Simple Collaboration with New Web App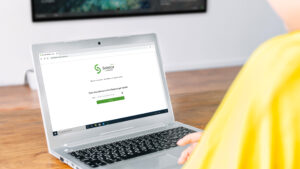 Solstice allows users to use their own devices to collaborate via the Solstice app. However, not every user wants or is able to download an app on their device. Solstice 6 allows users to visit share.mersive.com to wirelessly and securely share content through a web browser without having to download the Solstice app. Users simply open the browser on their laptops and start sharing content wirelessly and securely. Whether they are using the Solstice app or the new web interface, collaborators enjoy the same streamlined user interface and familiar Solstice experience.
"As the workforce returns to the office and students the classroom, videoconferencing is no longer an acceptable substitute for intuitive, easy-to-use, and secure collaboration tools," says Alan Young, Mersive's Chief Product and Information Security Officer. "Browser-based sharing—shifting away from installed applications—gives Solstice 6 a feature-set richness that's way ahead of the curve. All the user needs is a URL and they're in, and that's also one less thing IT departments need to worry about."
Improved Performance and Stability
Mersive is continually improving the performance and stability of the Solstice platform. Solstice 6 enhancements include support for a broader range of networks, devices, and room types. Mersive has also improved back-end processes that free up CPU and memory usage, so the meeting host has more power and resources available to them while using Solstice 6.
More Engaging Dynamic Digital Signage
Solstice 6 features enhanced Dynamic Digital Signage that allows users to engage and captivate end users. Solstice 6 transforms Mersive's digital signage capabilities through a completely customizable web page that is both interactive and dynamically responsive via the use of occupancy sensors, calendar events, or even API calls. Touchscreen displays enable that customized experience to be even richer, allowing room occupants to use the display to book an available room, submit an IT ticket, play a video, or display a welcome screen to anyone that enters the room.
New Pod For Education Enables Subscription-Free Pricing for Education
With Solstice 6, there is a new way for the education industry to acquire the Solstice collaboration solution that accommodates the typical education 'use-it-or-lose-it' budget model. For educational institutions only, the Solstice Pod for Education is available for purchase outright without the need for a subscription. The base Solstice Pod for Education comes with all of the Solstice Pod core features and software updates, plus support for the lifetime of the Pod. An introductory version of Solstice Cloud is also included with upgrade options available for analytics and monitoring.
For more information on Solstice 6, contact us at www.mersive.com/contact-us/. Visit Mersive at booth #4875 during InfoComm to experience the latest collaboration tools firsthand and glimpse Mersive's revamped product roadmap. 
About Mersive Technologies
Mersive Technologies provides solutions that allow people to connect and collaborate more effectively. The company's flagship product, Solstice, is a software-based platform that enables users to share content from any device to any display in a meeting room, huddle space, or classroom. For more information, visit www.mersive.com.
MEDIA CONTACT:
Krissy Rushing Tomlin
RISE Media Strategy
714.261.3030
[email protected]