Denver, Colorado (August 30, 2023) — Rosie Riveters is a nonprofit organization that empowers young girls by building personal confidence, critical thinking, and problem-solving skills through hands-on, community-based STEM (Science, Technology, Engineering, and Mathematics) programs. Mersive Technologies developed a new web app for Rosie Riveters Explores Pro AV's Harmonica project and hosted a packing party last week in which Mersive and the local COWAVIT (Colorado Women in AV/IT) group assembled 500 Harmonica project kits for Aurora Public Schools in Colorado.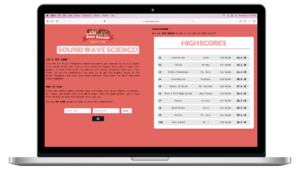 This is the second consecutive year Mersive has participated in Rosie Riveters Explores Pro AV, with last year's fundraising exceeding $35,000 thanks to the efforts of co-creators Erica Carroll, Mersive's Director of Product Marketing and Training, and Jennifer Goodyer, Sales Director at RTSales.
Rosie Riveters projects are designed to build girls' confidence via a "productive struggle," in which participants get things wrong before they get them right. The Harmonica kits contain all of the components necessary to build a harmonica, including popsicle sticks and rubber bands that students blow into to create a sound wave. Mersive created the accompanying web app—sound.mersive.app—to let students measure their harmonica's sound using a virtual sound meter and compete for the loudest classroom on the app's leaderboard.
"Our goal with Rosie Riveters Explores Pro AV is to introduce girls to the industry as a career path within STEM. We want to make STEM education more accessible, provide a place for girls to learn about Pro AV, and potentially help close the gender gap for the next generation of AV professionals," says Carroll. "The web app that Mersive created for the Harmonica projects will make the kits more interactive, fun, and insightful."
"I'm thrilled that Pro AV organizations are coming together as an industry to make STEM projects happen for girls in their local communities. It not only helps to show these students that the Pro AV industry wants them involved but in turn allows local manufacturers like Mersive to encourage and challenge students, nurturing future talent right in their own backyards," says Brittany Greer, Executive Director and Founder of Rosie Riveters.
How to Participate in Rosie Riveters Explores Pro AV
Last week's event kicked off the first of this year's Sound Wave projects for Rosie Riveters, and Rosie Riveters Explores Pro AV is seeking donations. Please visit AVgives.com to participate and learn more about how you can make a difference in inspiring young girls to a career in STEM via Pro AV.
About Mersive Technologies
Mersive Technologies provides solutions that allow people to connect and collaborate more effectively. The company's flagship product, Solstice, is a software-based platform that enables users to share content from any device to any display in a meeting room, huddle space, or classroom. For more information, visit www.mersive.com.
About Rosie Riveters
Rosie Riveters is a registered 501(c)(3) non-profit organization focused on empowering girls in STEM. By providing hands-on experiences and fostering a growth mindset, Rosie the Riveters aims to bridge the gender gap in STEM fields and equip young girls with the skills and confidence to pursue successful careers in technology and innovation.